VEHICLE WRAPPING DESIGNER & CUSTOM GRAPHICS NEAR ME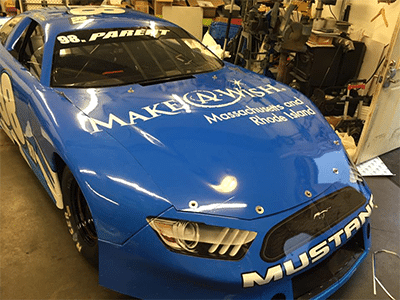 D&F Wraps provides the highest quality in vehicle wraps and applied graphics. We are quickly growing and specialize in installation pull down, under wrap removal, vehicle wrap designer, custom wraps designer and warranty. Let us handle your graphics project from start to finish and brand your business.
vehicle wrap printing ct, 3m vinyl wrap installer ct, truck wraps advertising cheshire ct
Vinyl wrapping has unlimited reach potential because of the countless places to advertise including vehicles, buildings, windows, banners, and more.
Outsourcing can be a hassle. Work with a team that will stick with you through the design, print, and install of your entire graphics project. Let us work side by side with you to deliver the results you desire.
MAKE A WISH RACE CAR WRAP
Check out the race car we wrapped for the Make A Wish Foundation in this time lapse video.
Benefits of wrapping your vehicle in a colorful ad for your business include:
Wrapped vehicles put your message and business directly in front of your target audience

Promotes your brand or business wherever you go

Your vehicles become rolling billboards

Everyone notices a colorful wrapped vehicle

Everything can be wrapped – from a helmet or motorcycle to a truck or bus

It can be extremely cost effective compared to other advertising
Did you know that 95% of people notice words and pictures when displayed on trucks?
When you wrap your vehicle you are creating a cost effective rolling billboard! Whether it's a truck, car, helmet, wall or sign, D&F Vehicle Wrapping can wrap it. Let our custom vehicle wraps turn your plain vehicle into an effective advertisement with a high return on investment. We handle the design, production and installation all on site so you can be assured of the highest quality product. We take care of everything! All you'll need to do is be able to drive it out of our shop and immediately start promoting your services.
Car Wrapping, Vehicle Wraps and Truck Wraps Near Me in Connecticut
Transform your vehicle's appearance and protect its paint with D&F Wraps, your trusted source for car wrapping, vehicle wraps, and truck wraps in Connecticut. Whether you want to give your car a unique look, advertise your business on the go, or simply protect your vehicle's finish, we have you covered. We pride ourselves on our attention to detail and commitment to quality. Our team of experienced professionals uses the latest technology and high-quality materials to ensure your vehicle wrap exceeds your expectations. From sleek and stylish car wraps to eye-catching vehicle graphics, we offer a wide range of customization options to suit your needs and preferences.
With years of experience in the industry, our skilled technicians have a deep understanding of the intricacies of car wrapping and vehicle graphics. We use premium vinyl materials that are designed to withstand the elements, ensuring your vehicle wrap stays vibrant and durable for years to come. Our design team works closely with you to create a unique and personalized wrap that reflects your style or promotes your brand effectively.
We understand the importance of your time, and we strive to complete your project promptly, without compromising quality. We offer competitive rates without sacrificing the quality of our work. If you're looking for top-notch car wrapping, vehicle wraps, or truck wraps near you in Connecticut, D&F Wraps is your go-to choice. Contact us today to discuss your project and get a free quote. Drive in style and make a lasting impression with D&F Wraps!
OUR SERVICE AREA
Serving You Where Ever You Are